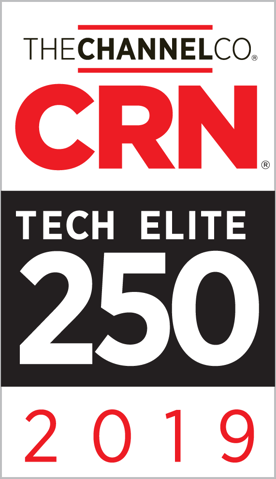 EO Johnson Company announced today that CRN®, a brand of The Channel Company, has named Locknet Managed IT Services to its 2019 Tech Elite 250 list. This annual list honors a select group of North American IT solution providers that have earned the highest number of advanced technical certifications from leading technology suppliers, scaled to their company size. These companies have distinguished themselves with multiple, top-level IT certifications, specializations, and partner program designations from the industry's most prestigious technology providers.
To compile this annual list, The Channel Company's research group and CRN editors work together to identify the most customer-beneficial technical certifications in the North American IT channel. Companies who have earned these elite designations— which enable solution providers to deliver premium products, services and customer support—are then selected from a pool of online applicants.
Locknet Managed IT has been recognized as a top IT Solution Provider for the past nine years. Certified as a USC/SOC 2 and FFIEC examined technology service provider, Locknet has been providing world-class service for almost the past 40 years.
"CRN's Tech Elite 250 list recognizes solution providers with extensive technical knowledge and premier certifications," said Bob Skelley, CEO of The Channel Company. "Pursuit of vendor certifications and broader skill sets in a wide range of technologies and IT practices, proves a solution provider is committed to delivering maximum business value from those technologies and giving their customers the highest level of service."
Coverage of the Tech Elite 250 will be featured in the April issue of CRN, and online at www.CRN.com/TechElite250.
About Locknet and EO Johnson Business Technologies
Locknet Managed IT Services is a division of EO Johnson Business Technologies. At EO Johnson Business Technologies, we live by one promise: to make your business better. As a world-class business technologies and managed IT services leader, EO Johnson also provides managed print services, secure document management, scanning, business process improvement, production print and wide format equipment.
With seven offices throughout the Midwest, thousands of valued customers, and more than 60 years of delivering world-class service, we can help businesses work smarter, not harder. Learn more about how our experts can help you achieve your business goals, manage your networks, grow your business and serve your customers: www.eojohnson.com.
About The Channel Company
The Channel Company enables breakthrough IT channel performance with our dominant media, engaging events, expert consulting and education and innovative marketing services and platforms. As the channel catalyst, we connect and empower technology suppliers, solution providers and end users. Backed by more than 30 years of unequaled channel experience, we draw from our deep knowledge to envision innovative new solutions for ever-evolving challenges in the technology marketplace. www.thechannelcompany.com
Related
Who Should Use Microsoft Teams? April 07, 2020 In "IT" "Business Process Improvement" "Remote Workforce" "Business Continuity" "Microsoft" ,
Work from Home Security and Productivity April 02, 2020 In "IT" "Cyber Security" "Data Backup" "Password Management" "Phishing" "SIEM" "Patching" "Vulnerability Management" "Security Tips" "Remote Workforce" "Business Continuity" ,
Remote Work Cyber Security March 24, 2020 In "IT" "Cyber Security" "Security Tips" "Remote Workforce" "Business Continuity" ,